Links
---
Sheldon Recreation Department
The Sheldon Recreation Department is dedicated to providing members of our community the opportunity to participate in activities that will enhance their well being through recreation. With the dedication of volunteers and staff we endeavor to provide quality programs to the citizens of Sheldon.
Department Information
Office Hours: Monday – Friday 7:30 a.m. to 4:30 p.m
Location: 416 9th Street, Sheldon, IA, 51201 (Google Maps Link)
Recreation Staff
Trevor Cast - Parks and Recreation Director
Evan Olesen - Recreation Coordinator
Links
Click "Remind to sign up to receive free text alerts: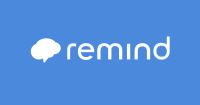 For news and alerts, follow the Sheldon Recreation Department on Twitter:

(Back to top)
---
Sheldon Sports (League and Tournament Schedules)
Youth Basketball Schedule (Lil Hooper's - 4th Gr.)
Youth Basketball Schedule (NWIA Basketball League 5th-6th)
Adult Co-Ed Volleyball Schedule
To register for Recreation Activities, or to reserve a facility click here:

(Back to top)
---
Sheldon Outdoor Aquatic Center
Welcome! Located at 415 19th Ave, Sheldon, IA 51201, below you will find useful information on our Aquatic Center, and links to helpful forms or documents pertaining to the center.
Phone: (712) 324-4771 (during pool season)
Phone: (712) 324-4651 (for passes or questions - this rings to the City Clerk's office)
Open Swim Pool Hours: Mondays, Wednesdays, Thursdays, Fridays: 1-8 p.m., Tuesdays: 2:00-8p.m., Saturdays: 12-6 p.m., & Sundays: 1-5 p.m.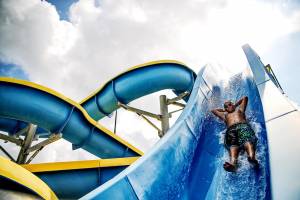 Pool Rates, Daily Rates
Student (4-18 years) $5.00
Adult (19 years and up) $6.00
After 6pm all Daily Rates are $2 per customer
Note: We do not accept any debit or credit cards at the Sheldon Outdoor Aquatic Center
Note: Children must be 9 years old to swim by themselves if they are under 9 years old they must be accompanied by someone at least 16 years of age. For any special request or questions on this rule contact the Recreation Director at 712.324.2769. Certain exceptions can be made if approved by the Park & Recreation Board.
Memberships
Family (immediate only) $140.00

Single $85.00

Punch Card (10 admissions)

Student $40.00
Adult $50.00
Pool Rental Rates (private usage)
1 hour $150.00
2 hours $250.00
Pool will be available to rent
Monday-Friday: 8:00-10:00 p.m. Saturday: 6:00-8:00 p.m. Sunday: 5:00-7:00 p.m.
Documents/Helpful Links
(Back to top)
---
Parks
Sheldon City Park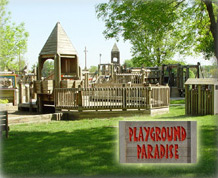 The Sheldon City Park is located between 4th and 6th Avenues just south of Highway 18. The park features include; an enclosed shelter house, restrooms, picnic tables, grills, softball fields, basketball court, open air picnic shelters, expression swing, and a covered gazebo.  The City Park is also home to Playground Paradise, a climbing and exploring adventure for children.
Park Hours: 6:00AM - 11:00PM
Enclosed Shelter House Rental
Opens April 1 & Closes October 15 (weather dependent) Whole (160 occupants) $130.00*
Half (80 Occupants) $100.00* *Prices include $50.00 deposit to be refunded following acceptable cleanup and key return.
Gazebo (Weddings only, no refunds) $25.00
** Enclosed Shelter house has a sink, broom and dustpan for clean-up. No refrigerator, stove or cooking facilities.
Please contact the City Office at (712) 324-4651 regarding reservations for the shelter house.
Links
(Back to top)
Our Skate Park - for skate boarding and rollerblading - is located on the Northeast corner of the park.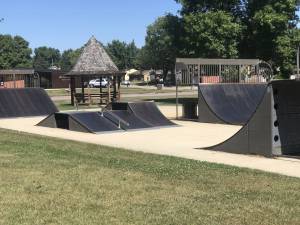 Schemper Park
Schemper Park is located on the corner of 9th Street and 25th Avenue. The playground is very popular and features a spring swing. Schemper Park also has a one half basketball court to provide more recreational opportunities for the neighborhood.
Sunrise Park
The park features include a covered picnic shelter, swings, small pond, and open space. Sunrise Park is also a great place to get on the eastern leg of the Sheldon Recreation Trail. Sunrise Park is located in Northeast Sheldon. Follow Highway 18 East to 18th Avenue then turn North. It is at the far North end of 18th Avenue.
Thorman Park
The park features picnic shelter, swings, a slide, and playground equipment. Thorman Park is located on Thorman Avenue between 15th and 16th Avenues in Southeast Sheldon.
Hills Park
Hills Park Campsites are a first come, first basis. No reservations are taken. Hills Park is located on the very North end of Sheldon, just west off 2nd Avenue. The park features 26 campsites, equipped with electrical and water hookups at each site. All electrical sites have 40 AMP-220 VOLT, 30 AMP-110 VOLT, and 20 AMP-110 VOLT. A RV dump station, restrooms, playground equipment, picnic shelters, and grills are available. The park, unique for it's trees, hills, and open green space, is a popular place for hiking, picnicking, and family activities. There is a 9 hole Frisbee golf course with cement pads for your entertainment as well.
Payments: RV Camping is $15 per night, and tent camping is $10 per night. Payment envelopes are available at the kiosk. Fill out information pertaining to your stay. Once complete put cash or check into envelope, and then put the completed envelope into the drop box. A Sheldon Park Staff will check daily to verify your stay.
(Back to top)
---
The Sheldon Recreation Trail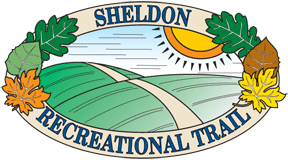 Sheldon is making an effort to enhance the community with green spaces and trails. Our citizens look to the outdoors for safe, healthy and affordable recreation opportunities. Approximately six miles of asphalt trail accommodate bikers, hikers, and inline skaters during the summer months. It is possible for senior citizens and individuals with physical disabilities to enjoy the trail using a golf cart with a city permit.
The Sheldon Recreational Trail has constructed a trailhead arch signifying the entrance. It is located in Hills Park, a location beneficial to campers, visitors, and all community members. Using 3,245 bricks salvaged from the Sheldon High School and Jr. College, the trailhead will honor organizations, businesses, and individuals who have made significant contributions and easements to make the trail possible.
Trail enhancements include picnic and rest areas, restrooms, prairie restoration area, playgrounds, wildflowers, trees, berms, prairie grasses, wildlife and birds.
The goal of the trail committee is to create a trail that will network the community creating biking and walking paths to access the community college, parks, public schools, Village Northwest, senior living centers, swimming pools, etc.
Families come first in Sheldon – the trail is for children of all ages!
Links
(Back to top)
---
Tennis Courts
Tennis and Basketball courts located behind the high school, 1700 East 4th Street, offers 3 tennis courts, 2 pickleball courts and one full-length basketball court for you enjoyment. The courts have a lighting system for activities taking place after dark.
(Back to top)